Cragged Mountain Newsletter – Late
Summer Edition
Greetings from the farm!

After another whirlwind summer on the mountain, it's just in the past week that the constant stream of people and activities has slowed to a trickle.  Summer camp was a wild success and if you want to learn more about it please check out the website and attached blog.  We are hoping to continue to integrate farm activities into the camp programming next year!
Two weekends ago we had our second annual Labor Day Weekend pig roast event with over 70 people having a meal together Saturday evening as the sun set over Young's Hill!
The weekend went smoothly and many thanks to everyone who made it out to the farm and the many hands that went into creating a really pleasant time for all attendees. 
Sales run to Exeter 

next Tuesday

 evening, 9/19, with pick up between 

5pm and 6pm

 on Lincoln Street.  Scroll for availability and pricing listed below the pictures.  Email your order to nick.utter@gmail.com by 

Monday

 evening, 9/18.  Thanks!
September's Sausage Sampler is 1 lb Hot Italian Ground, 1 lb Sweet Italian Ground, and 1.25 lbs of your choice of Chorizo or Sweet Italian Linked Sausage for $20!  Order two!
Maple syrup available in 8 oz and 12 oz glass bottles for $8 and $11.
Dinner time!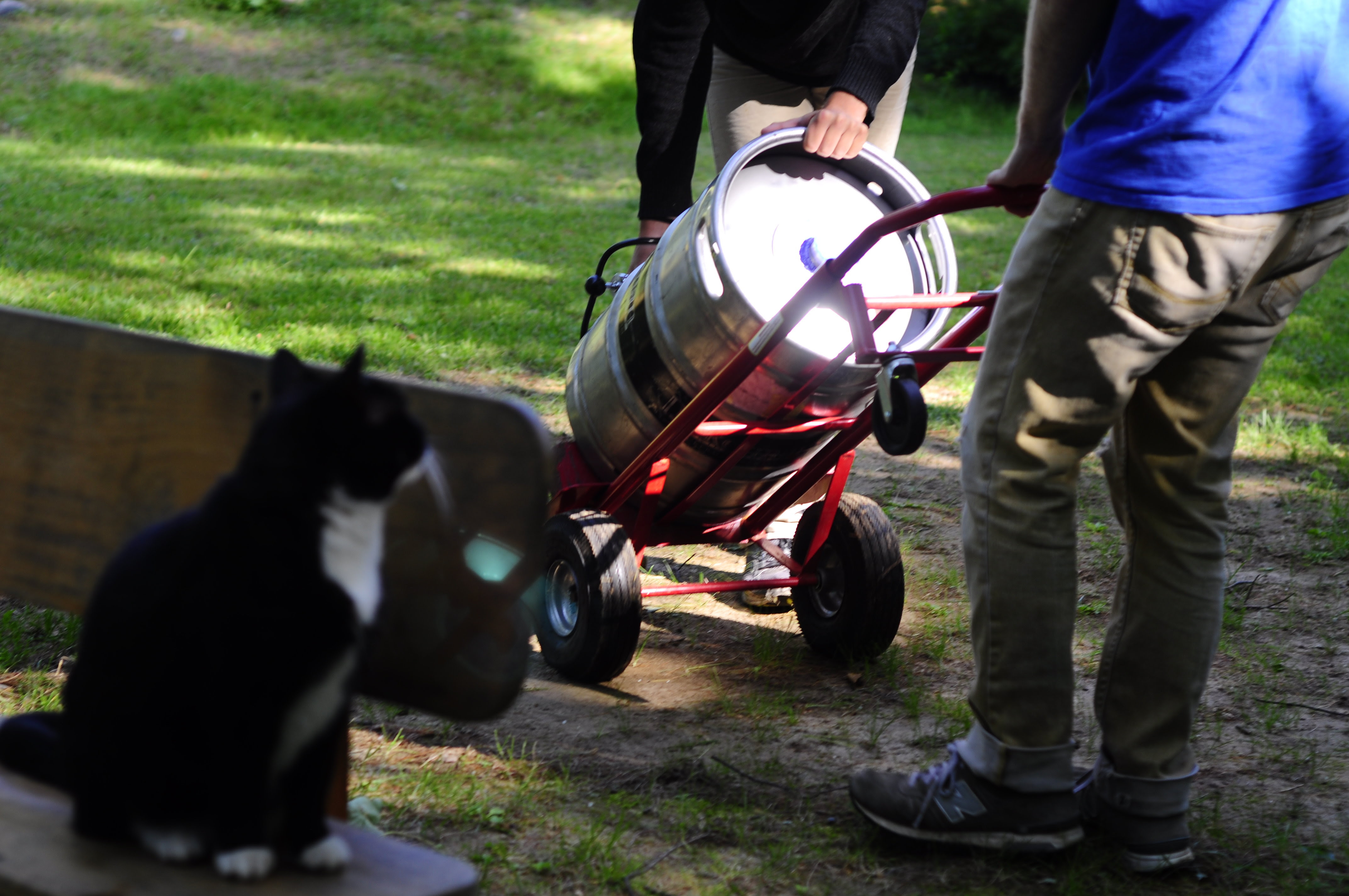 Jerome watches the keg delivery to the pig roast pit Labor Day Weekend '17.  
Life in the pit!
September 2017 Availability: 
Cuts, Pricing, Packaging
Pork Belly $7.99/lb, 1 lb or 3 lbs 
Smoked Half Ham $6.99/lb, 6 lbs
Smoked Whole Ham, $6.49/lb, 12+ lbs
Smoked Hocks $5.99/lb, 2 lbs
Country Style Ribs $6.99/lb, 2/3 lbs
Southern Style Ribs $6.99/lb, 2 lbs 
Sirloin Loin Roast Boneless $7.99/lb, 3 lbs
Sirloin Roast bone-In $6.49/lb, 4 lbs
Ham Steak 1/2″ thick, $5.99/lb, 1 lb
Sirloin Chops 1 1/4″ thick 2 per package, $6.99/lb, 2 lbs, limited supply
Boston Butt Roast $6.99/lb, 2.5 – 4 lbs
Picnic Roast $6.49/lb, 2 – 4 lbs
Soup Bones $1.99/lb, 3 lbs
Tenderloin $10.49/lb, 1 lb
Blade Roast $6.99/lb, 3 lbs
Sausage – Linked – $8.99/lb, 1 ½ lbs
Sweet Italian Links
Chorizo Links
Sausage – Ground – $6.49/lb, 1 lb
Sweet Italian
Mild Hot Italian
Hot Italian